Title: Beyond All Dreams
Author: Elizabeth Camden (http://elizabethcamden.com/)
Series: n/a
Genre: Christian Historical Romance
Age-Range: Young Adult/Adult
Era: 1890s
Setting: Washington D.C., USA
Publisher: Bethany House
Source: library
Rating: 4/5 stars. Although it was a great book, I find I couldn't get into the era as deeply as I would have liked to, and I sometimes found the characters confusing.
Content: 2/5, parental guidance suggested for preteens. A minor character in the book had a child out of wedlock, no details, as the result of an affair, again no details. This is not treated as ok, and it's barely mentioned. Some attraction and a couple kisses (no details) between Luke and Anna (which also felt unbelievable to me, given the time period … but whatever … let them kiss … I'll just turn the other … eye away … because for some reason I was only reading with one eye and … I'll stop now). Mentions of drinking and smoking. Luke's father was sometimes abusive when he was drunk.
Beyond All Dreams by Elizabeth Camden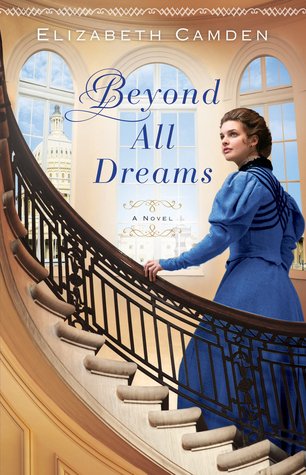 Anna O'Brien leads a predictable and quiet life as a map librarian at the illustrious Library of Congress until she stumbles across a baffling mystery of a ship disappeared at sea. She is thwarted in her attempts to uncover information, but her determination outweighs her shyness and she turns to a dashing congressman for help.
Luke Callahan was one of the nation's most powerful congressmen until his promising career became shadowed in scandal. Eager to share in a new cause and intrigued by the winsome librarian, he joins forces with Anna to solve the mystery of the lost ship.
Opposites in every way, Anna and Luke are unexpectedly drawn to each other despite the strict rules forbidding Anna from any romantic entanglement with a member of Congress.
From the gilded halls of the Capitol, where powerful men shape the future of the nation, to the scholarly archives of the nation's finest library, Anna and Luke are soon embroiled in secrets much bigger and more perilous than they ever imagined. Is bringing the truth to light worth risking all they've ever dreamed for themselves?
Buy on Amazon ~ Add on Goodreads